A star-filled weekend of romance at the
Hotel Leveque Columbus
Autograph Collection Hotel
Columbus is the perfect place for an adult-getaway. Personally, I think it's also great for families but sometimes, you just need to get away and spend some time together.
It's hard to carve out time for just the two of you. So, when you do, you want it to be a special as possible. Hotel Leveque is perfect for enjoying that special time together.
The building has changed over the years but now proudly houses the opulent hotel. As soon as you walk into the lobby, you immediately have a sense of the glamour that is Hotel Leveque. And while it is glamorous, it's also very comfortable and fun. The celestial theme is fresh and different and the staff is extremely welcoming. The staff seemed genuinely happy and were there to help you. We experienced this throughout the hotel and even the valet team.
A variety of room designs are offered and each have their own unique character. Regardless of which room you have though, there are certain standards in each room. You will enjoy the spaciousness of the bathroom and shower, the plush white robes (perfect for snuggling in), and upscale amenities provided by Cliff Original (a local Columbus company).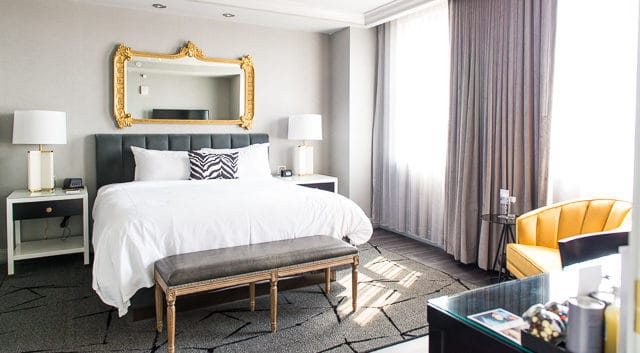 Perhaps a guest favorite is the turn-down service. Hotel Leveque goes above and beyond to ensure their guests enjoy sweet dreams. After a day of enjoying the town (you're extremely close to the Short North District, The North Market, and of course the Scioto River which is right next door), you'll appreciate the turn-down service. Indulge your sweet tooth with the celestial-painted chocolates and fall asleep under the stars. Literally. A star project machine displays the night sky up on the ceiling of your room.
Hotel Leveque offers The Keep Restaurant & Bar. My husband and I enjoyed a night cap….. You don't have to go far to get your caffeine fix either – you'll also find a Starbucks right here.
Whether you're in town to check out the local museums such as the Columbus Museum of Art, planning on shopping till you drop, or simply looking for an opportunity for some rest and relaxation, you'll be glad you chose Hotel Leveque for your hotel. It's fresh, different, inviting and totally satisfying.
Coming soon will be the Holiday Lights package. Enjoy the lights and decorations along the Scioto Mile. The package is offered at the beginning of December when the Columbus Grand Illumination takes place. Also, for those wanting a true one-of-a-kind experience, check out the Exactly Like Nothing Else Package (Star Treatment Package)!
For more information or to make your reservation for your own getaway, visit www.hotellevequecolumbus.com or call them at 614-224-9500.
Hotel Leveque
50 West Broad Street
Columbus, OH 43215
614-224-9500